The 5 Best Online Therapy for Veterans of 2021
eHome Military — Best Overall
This versatile mental health services provider offers treatment on an individual, group, family, and couples' basis, and it has a veteran-focused PTSD program. Moreover, eHome Military provides therapy to address a wide range of mental health disorders with 31 listed conditions.
E-Therapy Café — Best Range of Communication Methods
E-Therapy Café lets patients connect with their therapists through a variety of methods, supporting good communication and responsiveness. Options include phone calls, e-videos, instant e-chats, and e-journals. Patients use a protected portal on the provider's web platform to ensure confidentiality, convenience, and security.
Cohen Veterans Network — Best for On-Demand Care
When a mental health crisis strikes, timely, responsive care can mean the difference between tragedy and recovery. Cohen Veterans Network offers same-day crisis support. Plus, 96% of clients say they could schedule appointments as soon as care was needed.
Mental Verdure — Best for Military-Related Intervention Services
A military career is steeped in service. But veterans are often plagued with lingering mental health issues from their combat duties. Mental Verdure understands how these issues impact the lives of service members and veterans. They offer personalized intervention and counseling services that focus on military-related mental health disorders.
Thrive Counseling and Consulting — Best for Flexible Payment Options
Thrive is committed to meeting the mental health needs of veterans and their family members with affordable care. Their therapists accept a variety of insurance plans. Plus, they support flexible self-payment options with sliding scale fees based on income. Pro bono services with student interns are also available.
II. How We Chose the Best Online Therapy for Veterans
We researched online therapy services based on essential features to determine which providers were best positioned to meet the critical mental health needs of veterans with a focus on reliability, flexibility, and confidentiality.
Communication Methods
Open lines of communication are essential for therapy to be successful. We searched for providers that offer a variety of convenient ways to contact their therapists. Our picks support phone calls, video calls, messaging, e-journals, email, instant chat, and communication web portals.
Available Therapists
Veterans come from various backgrounds with their own distinct experiences. We searched for services with therapists who treat many conditions and are familiar with military ways and lifestyles. This helps ensure that you can find a mental health professional with the focused expertise to meet your unique needs.
Accessible Care
Receiving counseling in a timely manner is essential to effective treatment. We prioritized services that emphasized accessibility. Some of the providers' key characteristics on our list are shorter wait times, on-demand sessions, same-day appointments, and access to care from anywhere in the United States.
III. Our Top Picks for Online Therapy for Veterans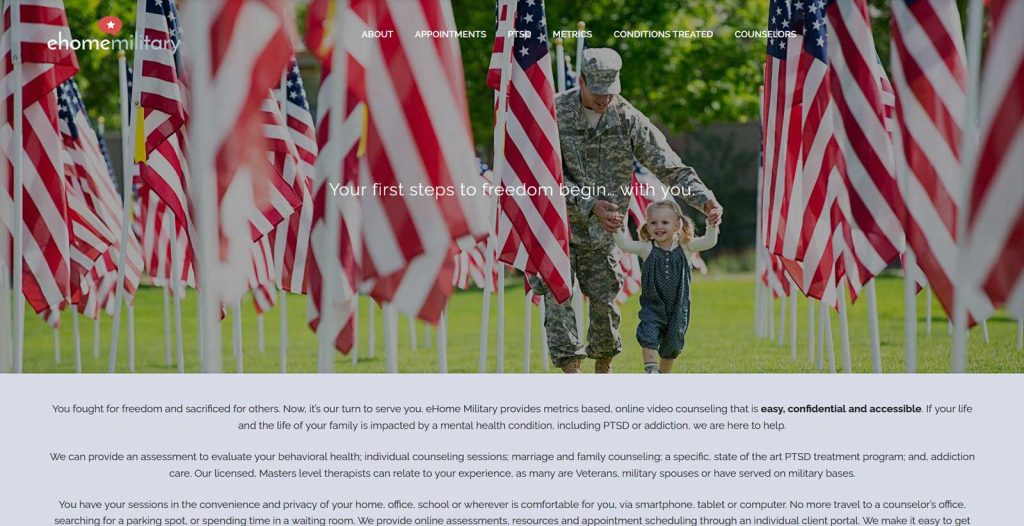 With several credentialed mental health professionals on staff, eHome Military is well-suited to provide mental health support services to veterans, service members, and their family members. Its span of services includes individual counseling, marriage therapy, family treatment, and group sessions. Online private counseling sessions can take place in your home, or anywhere you feel comfortable. Access to a computer, tablet, or smartphone with internet service is all you need to receive useful mental health therapy. You can schedule your sessions online, via email, or by phone.
eHome Military boasts a quantitative evaluation program called Deep Mind Insight™, with assessments applied initially, during, and after treatment. It starts with a psychological and cognitive report — DANA Brain Modular evaluations and M2 questionnaires are instrumental in the development of these informative reports.
eHome Military's PTSD program helps veterans and active duty military members cope with overwhelming challenges through individual and group therapy sessions. Program therapists hold master's degrees and specialize in PTSD treatment. PTSD counseling includes four individual 50-minute sessions and three 75-minute group sessions each month. The program spans 12 weeks, and participants are also allowed eight 15-minute text messaging "check-ins" monthly.
Online video and audio files are available through eHome to help with stress relief. They're paired with web quizzes to ensure a better understanding of the available material. An artificial intelligence app provides 24/7 support.
Price
Appointment Type
Accepts Insurance
Therapists on Staff
Accepts VA Choice
Video chat
Text
AI app
Not mentioned
Not mentioned
What Patients are Saying
Veterans and their family members are gratified to find easily accessible mental health services through eHome Military's online counseling services. One happy patient was "matched with an excellent counselor who was very patient and passionate about (her) welfare. (She) was able to get tools to help work through (her) anxieties and issues."
IV. Online Therapy for Veterans FAQs
What is online therapy for veterans?
Online therapy for veterans is an electronic therapy option for active duty service members, retirees and military family members. Online counseling can be delivered via Zoom, texting, live video/videoconferencing, email, real-time chat, online journaling, and mobile apps. Veterans must have access to a PC, laptop, smartphone or other mobile devices to take part. Services may include counseling, group therapy, substance abuse treatment, life coaching and other mental health interventions, all specifically aimed at veterans.
Is online therapy for veterans effective?
Online therapy for veterans can be very effective with a qualified therapist and a reputable provider. Location, availability, and access play a vital role in how or whether veterans in need can get mental health therapy and counseling. Since skilled and qualified clinicians with experience in veterans' mental health issues are often in short supply, online therapy for veterans fills the gap. However, to be successful, a program needs the cooperation commitment of both the therapist and the patient.
What are the benefits of online therapy for veterans?
Online therapy for veterans offers many advantages over in-person counseling. This medium is flexible and convenient. It eliminates transportation issues and travel time, making therapy accessible to more veterans than ever before.
Many veterans dealing with PTSD and other mental health issues find it difficult to leave their homes. With online therapy, this is no longer a problem. They can get invaluable therapy from the comfort of their home. Plus, since they're in a familiar environment, they are often more open and receptive to the therapeutic effects of counseling. This option is also an excellent way to deliver services to veterans who live in underserved areas.
How much does online therapy for veterans cost?
Online mental health counseling for veterans ranges greatly in price. Some providers offer counseling on a sliding fee scale, and these sessions may be free or cost as little as $5. Trials are often available for discounted fees, such as $50 for a 30-minute session. Many online therapy providers offer subscriptions at a discount compared to pay-as-you-go fees. On the lower end, you can expect to pay $50 to $100 per session. On the higher end of the scale, therapy can cost hundreds of dollars per session.
Certain online clinicians support teaching and training. Those companies provide behavioral health student interns with the opportunity to get real-life experience. Veterans may receive therapy services from these interns for free. Online therapy providers may also accept VA Choice and a variety of insurance plans.

If you have any of these problems the good news is that treatment works. eHome was recently selected as the best overall online therapy for Vets.